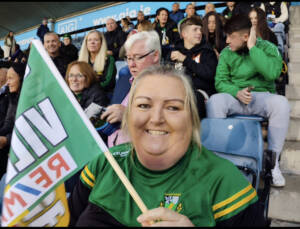 HILL 16 is Dublin only, and this week the Blues army lost one of its most loyal supporters following the sudden death of Linda Foley Carthy.
Linda, who is from Aylesbury in Tallaght, died on Monday, March 13.
Following her sudden passing, Linda has been remembered as a "great character" who was an unwavering supporter of Thomas Davis and the Boys in Blue.
"The Little Village has lost one of its great characters in Linda, a kind hearted and fantastic friend to so many club members," Colin Brown, Public Relations Officer of Thomas Davis, tells The Echo.
"We will now try give her the best Dublin and Thomas Davis GAA send off we can this Friday afternoon as the club rallies behind both the Carthy and Foley families during this difficult time."
Fond of a having the craic, Linda travelled to many of Thomas Davis' games down through years, whether it be for hurling, football or camogie, and frequented the clubhouse after games.
20-years-ago, Linda worked as a barwoman in Thomas Davis, where she came to know many of the club's members.
While she followed The Little Village's exploits, Linda also travelled far and wide to support Dublin and was a fixture on Hill 16 when the Liffeysiders took to Croke Park.
Regularly flanked by her brother Terence on the hill, Linda was often draped in one of her trusty Dublin scarves, "even in the hot summer weather where she'd carry her hand fan to cool her down".
Down through the years, as Jim Gavin's men marched on to win six All-Ireland's on the bounce, Linda loved to engage in some banter with Mayo supporters as they watched on in defeat.
A big fan of music and nights out with her husband Stephen, Linda most recently attended Laurie Hartz in Davis', who she loved to go see through the years.
Linda, whose death comes just a month after her mother Helen died, is survived by her husband Stephen, father Terry and siblings Anthony, Debbie, Helen, Terence, Michael and Lisa.
Reposing at her home on Thursday, a funeral mass for Linda Foley Carthy will take place on Friday, March 24, in St Martin de Porres Church, Aylesbury at 12pm.
Following the funeral mass, Linda will be buried in Bohernabreena Cemetery.
By prothomasdavis
Mon 27th Mar