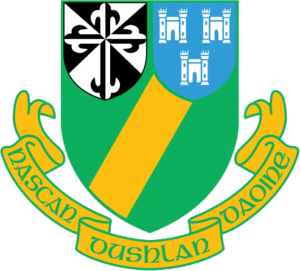 Thomas Davis GAA club logo 
Our club crest incorporates the traditional Dublin crest featuring the trademark Dublin blue with 3 castles along with the black and white Dominican crest and the club colours green with a gold yellow sash. Our logo also features the club motto "Nascann dushlan daoine" which translates to "A challenge unites people".
– The club crest should be used as is and not be altered in anyway.
– The club crest should be used on all TD items.
– Full permission must be sought when using the club crest on any printing/clothing materials.
Thomas Davis GAA brand – The Little Village
– More than just a GAA club
– Pride in belonging to a community which welcomes everyone
– At the heart of Tallaght for over 125 years.
– Cares about the health and welfare of our club members and community.
The Thomas Davis Brand is strong, with historical connections in Tallaght which now boasts extensive facilities, successful teams and a growing members base in all codes.